Today, access to electricity and water are recognized by the United Nations as Sustainable Development Goals (SDGs).
These are the conditions that are needed to eradicate poverty.
Access to electricity and water are two problems with multiple and shared challenges: food security, health, education, training, community life and safety, economic prosperity, fight against climate change. To activate these eight development levers, access to clean water and energy are essential.
Even today, close to 1.5 billion people still have no access to electricity.
The majority of them are in Asia and sub-Saharan Africa.
live in isolated rural areas and are excluded from development policies.
billion people are still dependent on traditional energy sources (candles, paraffin lamps, wood, etc.).
These forms of energy are often harmful and cause 4,3 million deaths each year.
Sustainable Development Goal No. 7 adopted by the United Nations General Assembly is to "ensure access to affordable, reliable, sustainable and modern energy for all".
of the world's population still does not have access to drinking water.
billion people, i.e. 40% of the world's population, do not have access to adequate sanitation.
million people live without having a source of clean water.
the aim of Sustainable Development Goal 6 adopted by the United Nations General Assembly is to "ensure availability and sustainable management of water and sanitation for all".
our battle
We have been struggling for over 30 years against all forms of inequality access to electricity and water around the world. In the field, our volunteers work hand in hand with local actors to maximize the impact of our actions and ensure their sustainability.
OUR COMMITMENT TO THE CLIMATE
Development, decarbonation, resilience: our actions in the face of climate challenges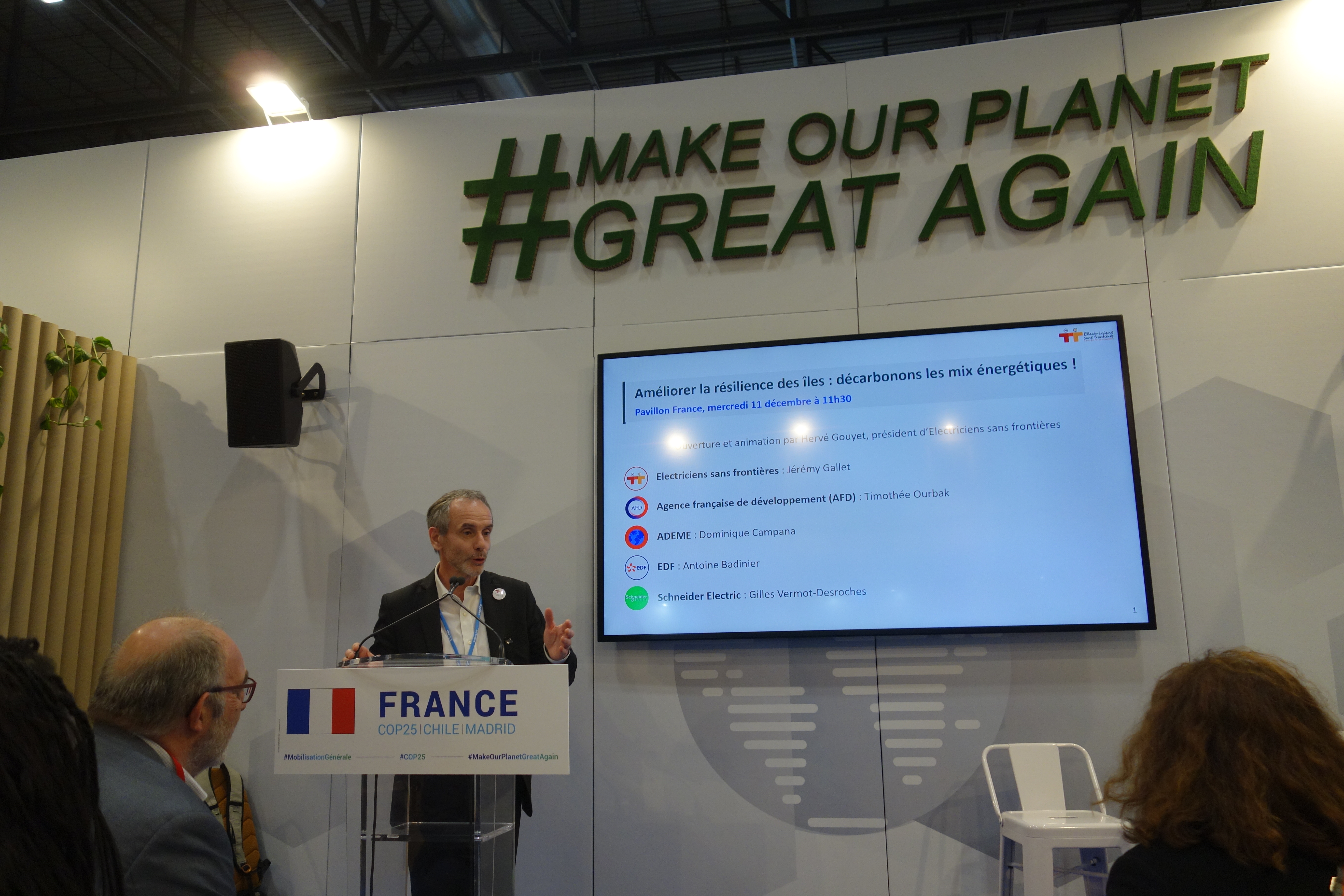 The production and use of this energy must take into account climate change, so it is essential to focus on renewable resources which emit very few greenhouse gases. Furthermore, SDG 13 is to "take urgent action to combat climate change and its impacts".
Electriciens sans frontières' work revolves around two aspects: mitigation and adaptation.
Mitigation: promoting renewable energies to reduce our carbon footprint and reduce the share of fossil fuels responsible for climate change. Thus, 93 % of Electriciens sans frontières' development projects use such resources, be they solar, hydraulic or biomasse.
Adaptation: improving the resilience of electrical systems will help the poorest population to cope with the effects of extreme weather disasters which, unfortunately, are likely to recur. In 2013, Typhoon Haiyan swept through the Philippines, while in 2016, Hurricane Matthew ravaged part of Haiti. In 2017, Hurricanes Irma and Maria devastated the islands of Saint Martin and Dominica. Each time Electriciens sans frontières acted swiftly to restore access to electricity, to bring light and to secure buildings, alongside other international solidarity organisations. And each time, we carried out reconstruction project.